KNPC HSE GOLDEN RULES
KNPC HSE Golden Rules have been developed to serve as the foundation of operational discipline, workplace and personal safety. Each one of the following 12 rules are linked to "control and barriers" to execute critical tasks to prevent incidents. The aim of these KNPC HSE Golden rules is to enhance safety culture by providing basic guidance to carry out work in a safe manner and ensure that individuals are aware of these rules and act accordingly .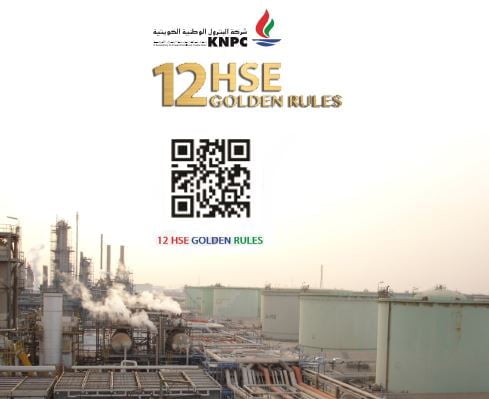 KNPC HSE 12 GOLDEN RULES:
Obtain Work Permit for non-routine jobs.
Verify Zero energy status before commencing work.
All confined space works shall be authorized.
Control excavation risks before authorizing.
Use your job related PPE.
Control work at height risks.
Pre plan your lifting considering activity hazards.
Obtain authorization before overriding Safety Critical Equipment.
You are authorize to stop unsafe work.
Report all incidents regardless of severity.
Know your role in emergency.
Think Green & Go Green
visit for more details : http://knpcqr.com/hse/
Kuwait National Petroleum Company (KNPC):
The Kuwait National Petroleum Company (KNPC) is the national oil refining company of Kuwait. Established in October 1960, KNPC handles the responsibility of oil refining, gas liquefaction, and distribution of petroleum goods within the local market. KNPC is also handling CFP (Clean Fuel project).
Established in October 1960[1] as a share-holding company owned by the Kuwait government and private sector, KNPC became fully government-owned in 1975. Since 1968 the company had been exporting petroleum products from its Shuaiba Refinery. In 1980, following the restructuring of the oil sector in Kuwait, KNPC was placed under the newly created Kuwait Petroleum Corporation (KPC), which was also government owned. Under this position, KNPC took control of distributing petroleum products within Kuwait, along with the ownership of the Mina Ahmadi and Mina Abdullah refineries.
Source : https://en.wikipedia.org/wiki/Kuwait_National_Petroleum_Company
KNPC HSEMS ELEMENTS:
Leadership, commitment & accountability.

Management system, metrics and audits.

Safe work practices, permits and standards.

Training and competence.

Environment.

Information and documentation.

Contractors and material procurement.

Roles responsibilities and assignments.

Behavior.

Incident reporting and investigation

Risk assessment and management of change.

Mechanical and operational integrity.