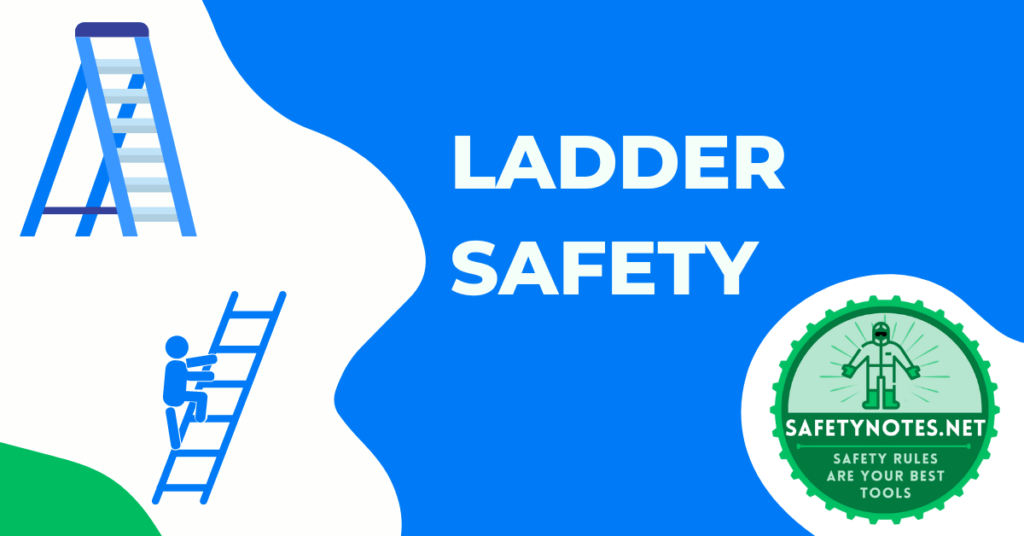 Ladders are commonly used in various work environments, and they play a crucial role in providing access to elevated areas. However, it is essential to prioritize safety when working with ladders to prevent accidents and injuries. In this safety toolbox talk, we will discuss important guidelines and best practices for ladder safety.
I. Introduction
Welcome, everyone, to today's safety toolbox talk on ladder safety. Ladders are one of the most frequently used tools in our work environment, and it's crucial to understand how to use them safely. By following the guidelines and best practices we'll discuss today, we can minimize the risks associated with ladder usage and ensure everyone's well-being.
II. Visual Inspection
Before using a ladder, it's important to visually inspect it to ensure its safety and integrity. The responsibility for inspecting the ladder lies with the user. Here are some key points to consider during the inspection:
Check for safety feet and ensure they are in place.
Look for any loose or missing rungs that could compromise stability.
Examine the ladder for any damages that could potentially cause personal injury.
Use a ladder that has safety feet to prevent slipping.
III. Choosing the Right Length Ladder
Selecting the appropriate ladder length is crucial for safe usage. Here are some important considerations:
The ladder should be long enough so that you can work while standing on a rung not above the 4th rung from the top.
Never stand on a ladder with your knees extending above the top rung, as it can lead to instability and accidents.
Avoid using the top rung altogether; it is not designed for standing or supporting your weight.
Do not overreach from a ladder; if your buckle reaches past the uprights, you've gone too far. Move the ladder to a closer position.
IV. Defective Ladders
If you come across a ladder with defects or damage, it is crucial to take immediate action:
Defective ladders must be promptly removed from service.
Tag the ladder clearly to indicate that it should not be used until it has been repaired or replaced.
V. Stepladder Safety
When using stepladders, it's important to ensure stability and proper positioning:
Place stepladders on a firm and level surface to prevent tipping or wobbling.
Make sure all four legs are in contact with the ground and avoid placing them on uneven or unstable surfaces.
Do not use a stepladder in a folded or closed position.
VI. Straight and Extension Ladder Safety
Straight and extension ladders require extra precautions due to their length. Consider the following:
When ascending a straight or extension ladder, have a second person hold it at the base until the top of the ladder is firmly secured for subsequent climbs.
Ensure that no one bumps into the ladder while you are on it to avoid accidents and instability.
VII. Hands-Free and Proper Body Positioning
To maintain balance and stability while climbing a ladder, it's important to keep both hands free and adopt the correct body positioning:
Always keep both hands free of tools and other items while climbing the ladder. You need both hands to maintain a firm grip and balance.
Consider wearing a tool belt or using other methods to transport materials up the ladder after reaching the top.
Face the ladder and maintain a firm grip on the rungs while ascending or descending.
VIII. Proper Placement of Ladders
The correct placement of ladders is essential for stability and safety. Follow these guidelines:
Maintain a minimum 1:4 ratio between the horizontal and vertical placement of the ladder. This means the ladder should be positioned one rung length out from the wall for every four rungs where the ladder touches the wall.
Avoid placing the ladder too close or too far from the wall, as it can lead to instability and accidents.
Ensure that the ladder is supported on a firm and strong structure, such as the ground, and not on any pipes or conduits.
IX. Support and Stability
Proper support and stability are crucial for safe ladder usage. Consider the following:
Ensure that the uprights of the ladder are vertical to maintain stability.
If the ground is uneven, use appropriate methods to shore up and level the ladder.
Avoid supporting the ladder on pipes or conduits, as they may not provide the necessary stability.
X. Incident Scenario
To emphasize the importance of ladder safety, let's discuss a real-life incident:
A worker placed a ladder leaning against a conduit. While climbing up, the conduit broke, causing the worker to lose balance and fall, resulting in injuries. As a consequence, the wires inside the conduit were damaged, leading to a short circuit. The incident caused a loss of UPS power to the unit, resulting in production loss and process upsets.
This incident demonstrates the severe consequences that can arise from unsafe ladder usage. It's crucial that we prioritize ladder safety to prevent such incidents and their cascading effects.
XI. Conclusion
In conclusion, ladders are important tools that enable us to access elevated areas. However, their use can be hazardous if not done safely. By adhering to the guidelines discussed in this toolbox talk, we can ensure the safe use of ladders and protect ourselves from accidents and injuries. Remember, ladder safety is everyone's responsibility, and it's vital that we use ladders safely and wisely in our daily work.
XII. Frequently Asked Questions (FAQs)
How often should ladders be visually inspected?
Can a ladder with a missing rung still be used?
What is the correct positioning for stepladders?
Are there any alternatives to using ladders in certain situations?
How can employees ensure the stability of a ladder on uneven ground?
Remember, your safety and well-being are paramount. If you have any additional questions or concerns regarding ladder safety, please don't hesitate to reach out to your supervisor or the safety department. Stay safe!