Our today's Toolbox Talk topic is Effects Of Electric Shock. It's crucial to understand the potential risks and consequences associated with electric shocks to ensure a safe working environment. Let's delve into this important subject together and discover how we can prevent accidents and protect ourselves from electrical hazards.
Accident Statistics of the 1970s and 80s revealed that a staggering 30% of all fatalities were caused by electricity. However, thanks to advancements in technology, we now have the ability to quickly isolate electricity to prevent severe injuries and equipment damage. Despite these improvements, electrical accidents still occur and can have devastating effects. Let's explore the various aspects of electric shocks and their impact.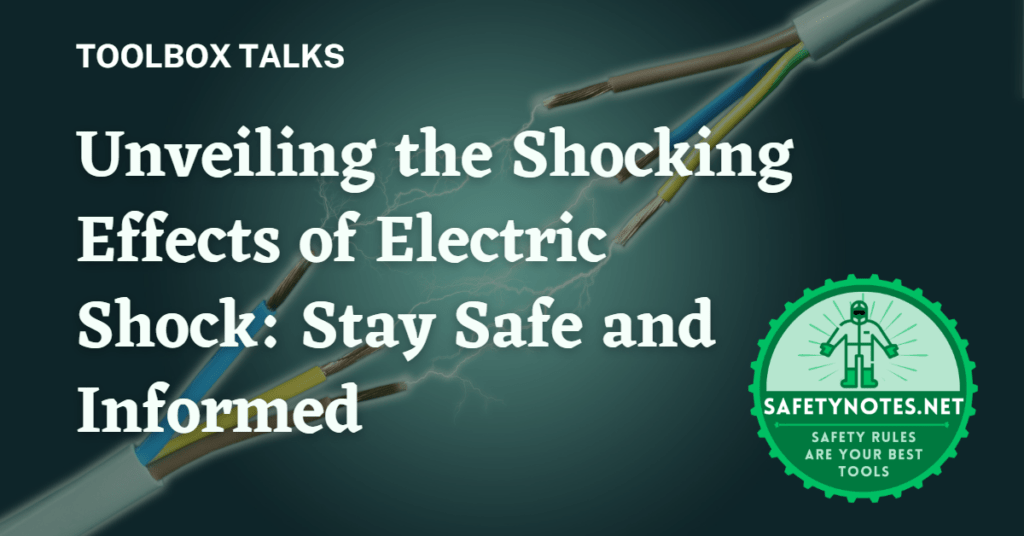 Causes of Electrical Accidents
One of the significant causes of electrical accidents is falling from heights due to electric shock. It's crucial to be aware of the potential dangers when working at elevated locations where electrical equipment is present. Additionally, burning incidents can occur during electrical faults or short circuits. The sudden release of energy can cause flashes, leading to severe burns if precautions are not taken.
Understanding the Effects of Electric Shock
In electrical shock incidents, the level of current is the determining factor. Voltage, on the other hand, primarily determines how much current will flow through a given resistance in the body. Surprisingly, the current required to operate a 10-watt light bulb is eight to ten times more than the amount that could be fatal to a human. It's important to note that even 120 volts can cause a current flow that is many times greater than what is required to cause harm.
Human Resistance to Electrical Current
The human body's resistance to electrical current varies depending on several factors. Dry skin offers a resistance of approximately 100,000 to 600,000 ohms, while wet skin reduces resistance to about 1,000 ohms. When measuring from hand to foot, the resistance ranges from 400 to 600 ohms, and from ear to ear, it's approximately 100 ohms. Understanding these resistance values helps us comprehend the potential impact of electric shocks.
Effects of Different Current Values
Let's take a closer look at the effects of various current levels on the human body:
1 Milliampere or less: At this threshold, the shock is not felt, and no sensation is experienced.
1 to 8 Milliamperes: A slight sensation of shock is felt, but it is not painful. Muscular control remains intact.
8 to 15 Milliamperes: The shock becomes painful, but there is no loss of muscular control.
15 to 20 Milliamperes: The pain intensifies, and adjacent muscles lose muscular control. Letting go becomes difficult.
20 to 50 Milliamperes: The shock is even more painful, causing severe muscular contractions and making breathing difficult.
100 to 200 Milliamperes: Exposure to this range can lead to a fatal heart condition known as ventricular fibrillation, where the heart quivers without pumping blood.
200 Milliamperes and over: At this level, severe burns occur, and the chest muscles contract forcefully, potentially stopping the heart during the duration of the shock, thus preventing ventricular fibrillation.
It's important to note that even lower current levels can have serious consequences, and we must remain vigilant when working around electricity.
Ventricular Fibrillation
Ventricular fibrillation is a heart condition that can result in death. Currents ranging between 100 and 200 milliamperes can cause this severe condition. It's crucial to understand the risks associated with electric shock and the potential dangers it poses to our well-being.
Severe Consequences of High Current Levels
Exposure to high current levels can lead to severe burns that require immediate medical attention. Additionally, the intense muscular contractions caused by excessive current can make it difficult to breathe, posing a grave risk to our health. Understanding the potential consequences emphasizes the importance of taking electrical safety seriously.
To create a safe working environment, we must prioritize electrical safety measures. Wearing appropriate personal protective equipment (PPE) and regularly inspecting equipment for damage or faulty wiring are key steps in preventing electrical accidents. Remember, safety should always be our top priority.
If you encounter any electrical hazards or notice potential risks, please report them immediately. By reporting these hazards, we can address them promptly and ensure a safer workplace for everyone. Let's foster a culture of safety and accountability.
In the unfortunate event of an electric shock, knowing the appropriate first aid procedures can make a difference. If someone experiences an electric shock, call for medical assistance immediately. If the person is unresponsive, administer CPR if you are trained to do so. Prompt action can save lives.
Creating a safe working environment is a shared responsibility. Employers must provide a safe workspace and conduct regular inspections and maintenance to mitigate electrical hazards. As employees, we play a vital role in ensuring our safety and that of our colleagues. Active engagement in safety initiatives and ongoing training programs can significantly reduce the risk of electrical accidents.
Conclusion
Today, we discussed the effects of electric shock and the importance of electrical safety. By understanding the potential risks and consequences, we can take proactive measures to protect ourselves and create a safe working environment. Remember, your safety matters, and together, we can prevent accidents and ensure a secure workplace.
FAQs (Frequently Asked Questions)
Q: How can I protect myself from electric shocks?

A: Use personal protective equipment (PPE), regularly inspect equipment, and report any electrical hazards immediately.

Q: What should I do if someone experiences an electric shock?

A: Call for medical assistance and administer CPR if necessary.

Q: Why is it important to report electrical hazards?

A: Reporting electrical hazards helps address them promptly and ensures a safer workplace for everyone.

Q: What are the severe consequences of high current levels?

A: High currents can cause severe burns and intense muscular contractions, posing significant risks to health.

Q: What is ventricular fibrillation, and how is it caused?

A: Ventricular fibrillation is a heart condition that can result in death and is caused by exposure to currents ranging between 100 and 200 milliamperes.