Compressed Gas Cylinder Safety Guidelines
We will explain compressed gas cylinder Safety guidelines in the term of identification, storage, handling, hazards, precaution and use of industrial compressed gas cylinders.
COMPRESSED GAS CYLINDER GENERAL DEFINITION HAZARDS & PRECAUTION
1) Compressed gas cylinder:
Argon, oxygen, acetylene, gases are compressed under high pressure and can be stored inside the cylinder for easy transportation and storage at working site.
2) Hazard Of Compressed gas cylinder:
Release of high-pressure gas and flying like rocket if the regulator/safety valve got break.
3) General Safety Precautions Of Compressed gas cylinder:
Name of the gas and chemical formula shall be mark on the cylinder.
Inspection for damaged or faulty cylinder with regulators and valve.
Each cylinder shall have valid inspection and hydro tested certificate.
Valves of the cylinder shall be protected by cap.
Cylinder shall always keep on trolley with chain,
Don't keep cylinder horizontally on ground.
Cylinders shall not be subjected to contact with direct flame, electric arc, molten metal, and other sources of heat, corrosive material or corrosive environment.
Measures shall be taken to prevent grit, dirt, oil, grease or water from entering through the cylinder valves.
Rusted or dented cylinders must not be used.
Empty and filled cylinder shall be stored/ kept differently to avoid confusion.
Always keep cylinder on shed.
COMPRESSED GAS CYLINDER IN DEPTH GUIDELINES
DEFINITIONS AND ABBREVIATIONS
1) Definitions:
 Compressed Gas : A material, or mixture of materials that
(1) Is a gas at 20°C or less at an absolute pressure of 101.3 kPa, and
(2) Has a boiling point of 20°C or less at an absolute pressure of 101.3 kPa and that is liquefied, non-liquefied, or in solution. Gases that have no health or physical hazard properties are not considered to be compressed gases until the pressure in the packaging exceeds an absolute pressure of 280 kPa at 20°C. (Source: NFPA 55-2013, 3.3.49.1)
Compressed Gas Cylinders:  Cylinders that are filled with compressed gas, including dissolved type cylinders of acetylene gas.
Cylinder :    A pressure vessel designed for absolute pressures higher than 276 kPa and having a circular cross-section. It does not include a portable tank, multiunit tank car tank, cargo tank, or tank car. (Source: NFPA 55-2013, 3.3.29)
2) Acronyms:
BS       :                                  British Standards
NFPA  :                                  National Fire Protection Association
ISO      :                                  Industrial Standards Organization
3) International Standards
BS EN 1089-3 : Transportable Gas Cylinders – Cylinder Identification Part 3Colour Coding
NFPA 55:  Standard for the Storage, Use, and Handling of Compressed Gases and Cryogenic Fluids in Portable and Stationary Containers, Cylinders, and Tanks
IDENTIFICATION
All cylinders that are received for use on site shall be colour coded on the shoulder of the Cylinder (curved part). The colour coding is intended to identify the properties of the gas in the cylinder. A number of industrial gases have been assigned a specific colour.
Where an industrial gas does not have a specific colour, the properties of the gas shall be indicated. For gases with two properties they shall be indicated by two concentric bands.
COLOUR CODING OF INDUSTRIAL GAS CYLINDERS:
The colour coding described only applies to the shoulder, or curved part, at the top of the cylinder and is used to identify the properties of the gas in the cylinder.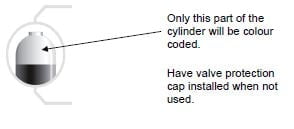 Colour Classification by Hazard Property
Specific Gases

Gas Mixture for Inhalation Purposes
Inert Gases for Medical and Industrial Applications
Examples of some Industrial Gases and Gas Mixtures
 The colour coding listed only a guide. The label found on the cylinders shall be referred to when identifying the contents of the cylinder.
(Source: British Compressed Gases Association
Technical Information Sheet 6 Revision 2: 2012
Cylinder Identification. Colour Coding and Labelling Requirements.)
LABELLING INFORMATION AND IDENTIFICATION MARKS
All gas cylinders are required to be labelled to indicate the contents of the cylinder. Below is an example of a typical label, with an explanation of the various items that are to be displayed. It must always be remembered that the label is the means of identifying the contents of the cylinder. The colour of the cylinder is only a guide.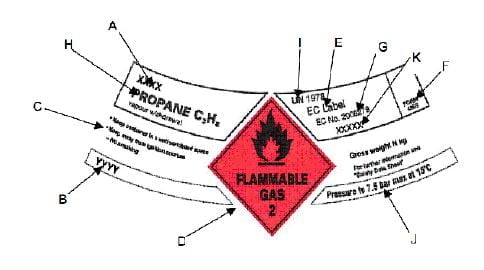 A. Company name
B. Address of the company
C. Risk and safety phrases relating to the product
D. Hazard symbol
E. EC label (for pure substances only)
F. Revision number (gas company use to identify label revision)
G. EC number, if applicable
H. Product name
I. UN identification number and proper shipping name (given by product name)
J. Any additional company information
K. Emergency contact telephone number
Identification marks on typical cylinder necks are as follows:
STORAGE OF CYLINDERS:
A suitable area dedicated for the storage of industrial gas cylinders shall be identified and provided for the storage of industrial gas cylinders. All cylinders shall be secured in an upright position and secured with the protective caps at all times in designated cylinder storage areas. All cylinders shall be labelled, marked and stored in accordance with their contents.
1) Location
A suitable location within the site shall be established for the storage of gas cylinders in accordance to the following guidelines:
An area where the cylinders has minimal exposure to excessive temperature, physical damage or tempering. Compressed gas cylinders shall not be exposed to direct temperatures exceeding 38o
The area shall be free from heavy traffic and sufficient to allow a boom truck to allow loading and offloading of compressed gas cylinders.
The storage area shall be enough to contain the projected quantity of compressed gas cylinders that may be stored on site on any given time and to allow segregation distances between incompatible gases.
The storage area shall be at least 15 meters away from flammable / combustible materials and sources of ignition.
2) Construction Layout
Compressed gas cylinders storage area shall be delimited with such materials as chain links, fence or open block for the full height and width of the opening. Materials used to construct the storage area shall be non-combustible.
The storage area shall be secured against unauthorized entry
The storage area shall be kept clear of dry vegetation, combustible and flammable materials by a distance of at least 15 meters.
Cylinders shall not be placed directly onto the ground where they can be exposed to conditions which could cause corrosion on the base of the cylinders. They shall be placed on a slightly elevated and smooth surface, such as concrete flooring.
Storage areas shall be provided with physical protection from vehicle damage.
Storage areas shall be covered with canopies of non-combustible construction where they are not directly exposed to Sun Light.
'No Smoking' and 'No Hot Work' signs shall be posted in the storage area.
The MSDS of all compressed gas cylinders in the storage area shall be displayed at the storage area.
Electric switches shall be of flame proof type or placed outside the storage area.
Signs shall be posted to indicate the type of cylinder in the storage area, for example, Oxygen, LPG, Nitrogen etc.
EXAMPLE OF GAS CYLINDER STORAGE AREA:
3) Placing of Cylinders
Compressed gas cylinders placed in the storage area shall be secured with the protective caps at all times.
All cylinders shall be stored upright and restrained from toppling (e.g. secured at two levels with chain links, ropes) and shall not be propped against a wall or bench.
Full cylinders shall be kept separated from empty cylinders and sign posted to indicate 'Full Cylinders', 'Empty Cylinders'. A partition shall be established in the storage area for this purpose.
Oxygen cylinders shall be stored separately (minimum of 6 meters or twenty feet) from all other sources of combustible gas, or by means of a non-combustible barrier at least five feet (two meters) high having a fire-resistant rating of at least one-half hour.
Cylinders of the same type shall be placed together. Incompatible gases shall be either separated by a distance of 6 meters or by means of a non-combustible barrier at least 2 (two) meters high having a fire-resistant rating of at least one-half hour. All empty cylinders shall be stored separately from all other cylinders.
Compressed gas cylinders shall not be placed in confined areas.
Cylinders shall be placed in a manner that they do not become part of an electrical circuit and shall be kept away from piping systems and layout / cutting tables that may be used for grounding electrical circuits.
All cylinders shall have valve protection caps installed when not in use.
4) Oil, grease and other contaminants
Oil or grease ignites violently in the presence of high pressure oxygen. Cylinders and fittings shall be kept clear from all sources of contamination such as oil barrels, cranes, drive belts etc.
Personnel assigned to handle gas cylinders shall be instructed not to handle O2 cylinders with greasy hands.
HANDLING AND USE OF CYLINDERS
Cylinders shall not be manually moved as far as practicable. A dedicated carrier or trolley shall be used.
Suspended work platform / basket shall not be used to lift compressed gas cylinders. Lifting of cylinders by direct slinging or lifting it off its valve protection collar is strictly prohibited.
All cylinder valves shall be closed and their protective cap installed in place before they are allowed to be moved.
Compressed gas cylinders shall not be modified in any way.
1) Care of Compressed Gas Cylinder  in use
Loose dirt shall be cleared by 'sniffing' some gas to the atmosphere (opened slowly and then closed immediately) before connecting the regulators to the valve. This shall be
Carried out in an area where there are no sources of ignition and personnel shall keep to the side of the cylinder when performing this routine.
The standard key issued by the supplier for the cylinders shall be used. The leverage of keys shall not be increased and badly worn keys shall be removed.
Valves shall not be opened by wrenches or hammers.
When a trolley or other similar device is used to move they shall be placed upright and secured.
Lubricating any cylinder valves or other parts of the cylinder shall not be allowed.
Smoking, performing hot works or introducing any other source of ignition shall not be allowed in places where compressed gas cylinders are placed.
Cylinder valves shall be closed when the work is stopped even for a few minutes.
Valve keys shall always be left on the cylinder when it is being used.
Ignited torches shall not be allowed anywhere near a cylinder.
2 ) Care of oxygen cylinders in use
Combustible materials shall be removed from areas where hoses containing oxygen are being used.
In enclosed areas oxygen checks shall be carried out to ensure that the oxygen concentration in the atmosphere does not exceed 21%.
Wherever possible all works involving the use of oxygen cylinders shall be carried out in the open air.
In the event of any emergency all lines / hoses shall be isolated and depressurized.
3) Leaks
All cylinders shall be used properly and correctly to prevent any leaks. Any leaks shall be located using 'soapy' water and a brush.
Any cylinders that are found leaking shall be withdrawn from service.
4) Reactions
Gases shall not contact materials, with which they may react violently. The following list is
some of the industrial gas which may have an adverse reaction when introduced to certain conditions:
Propane : In a confined space, a small amount may lead to an explosive mixture
Oxygen : Oxygen rich atmospheres will assist in burning. Clothing or other inflammable material will burn fiercely. Signs of an oxygen-rich atmosphere are;
Welding equipment 'popping' when being ignited
The flame on a torch will be white rather than blue without opening the oxygen valve.
Compressed Air : Compressed air is richer in oxygen than the same volume of non-compressed and may lead to spontaneous combustion of hydrocarbon products.
Nitrogen : Nitrogen does not support life or fire. Odourless, colourless and slightly light than air. Vessels which have been purged with nitrogen shall not be entered until an oxygen check has been carried out.
VALVES AND REGULATORS
The following precautions shall be taken when handling valves and regulators,
Valves shall be opened slowly. All valves have a right-hand thread
Prior to connecting / disconnecting any attachments from the cylinder the valves shall be shut off.
Welding and cutting equipment shall have automatic pressure regulators and flashback arrestors (including a cut-off valve) fitted.
Before fitting to a full cylinder, the regulator shall have the pressure adjusting screw released to prevent from damaging the regulator.
When oxygen or fuel cylinders are connected to manifolds or headers, the manifolds shall be of a proper design with one or more pressure regulators, pressure relief devices and anti-flashback arrestors.
All regulators shall be inspected periodically and failed one shall be replaced with proper one immediately.
All torches attached to compressed gas cylinders shall have a non-return valve (NRV).
All equipment shall be compatible with the gas or gases being stored, i.e. cylinders / regulators shall not be interchanged.
When compressed gas is supplied to process equipment from cylinders, the proper risk assessment shall be carried out. If the result of risk assessment requires, pressure relief devices shall be installed between the equipment and regulator(s) of the cylinder(s).
A typical oxy-fuel setup is shown in below figure. Flashback arrestors and check valves shall be installed on all oxygen and acetylene cutting gear. The flashback arrestor shall be installed at the regulator end and the check valve at the cutting torch end of each hose while in operation.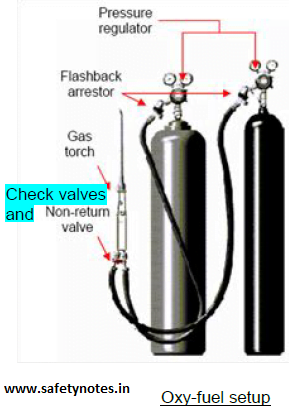 HOSES
The following precautions shall be taken when using hoses connected to compressed gas cylinders;
Only hoses that of a good quality and fit for the task shall be purchased. Substandard quality hoses crack and leak over a certain period of time.
Hoses used to convey gases are each assigned a specific colour. All hoses used on the project shall conform with the colour coding requirements as indicated in the table below.
| | |
| --- | --- |
| Gas | Colour of hose |
| Acetylene | Red |
| Oxygen | Blue |
| Air | Black |
| LPG | Orange |
connections shall be inspected daily before use using 'soapy' solution.
Hoses shall be subjected to frequent checks. Cracked and damaged hoses shall be discarded.
Care shall be taken when laying out hoses to ensure that they do not come into contact with sharp edges or subjected to hot metal and sparks etc.
Hos shall be kept clear from traffic areas and walkways.
Proper flint guns shall be used to light torches.
Torches shall not be lighted up until sufficient time has elapsed for the gas in the hose to reach the working pressure and that any air in the hose has been expelled.
Lighted torches shall not be passed over or across flexible hoses.
Lighted torch shall not be left unattended
All hoses shall be removed from confined spaces when not in use.
Hoses not in use shall be properly coiled up and stored safely.
REFILLING
No one except the owner or a person approved by the owner shall refill a compressed gas cylinder. All refill operations shall take place at the supplier / manufacturer location and shall not be carried out in the project site.
Questions:
Compressed gas means what?
What are the types of gases we are using for hot work?
Explain about storage and transportation of compressed gas cylinder?