Toolbox Talk Housekeeping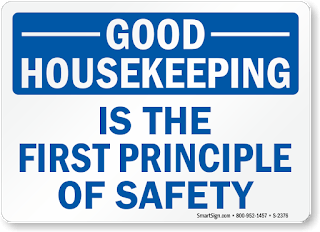 Our Today's
Toolbox talk
topic is housekeeping at workplace.
PREPARATION: Have a look around the area and make a note of examples of good and bad housekeeping to illustrate your Toolbox Talk.
Always maintain good housekeeping at the site. Good housekeeping always attracts client and visitors & good housekeeping shows the professionalism of the workforce.
Always maintain adequate housekeeping at the site. because poor housekeeping is a big obstruction in an emergency situations.
always maintain adequate material management at the site. barricade the material & post signages.
Do not block any access or walk way by material or waste.
Waste materials and rubbish are a fire risk and an accident hazard. 
We have to collect waste at a designated location by waste type.
Waste containers shall be located at suitable places on site.
Do not allow oily rags to accumulate, they can ignite spontaneously. Always clean Spilled liquids immediately by the spill kit.
Food bins have tightly fitting lids and ALways remove food waste from the site not less than once per day.
Do not bring extra material from the materials yard, always take the required material from the material yard.  because It gets in the way and leads to poor housekeeping & poor material management. Return Extra materials to the material yard or store.
Always keep tools in the toolbox.
All work areas must be keep orderly and clean on a DAILY basis.